Omura Wonder Soursop Leaf Tea
Omura's Authentic Soursop Guanabana Graviola Leaf Tea is a convenient tea bag filled with premium Soursop leaves, providing an easy and delicious way to enjoy the benefits of this superfood. Enjoy the antioxidant-rich tea in hot or chilled form and reap the benefits of Soursop's natural properties.
Omura Soursop Leaf Tea is made with
NO OTHER INGREDIENTS ADDED and only
 natural Soursop leaves, so you can rest assured that you're only getting fresh, natural flavors. Enjoy Soursop's unique and refreshing taste with every sip! sugar-Free, Caffeine Free, Vegan, Non-GMO, Gluten Free, and radiation-free.
We harvest Soursop Graviola leaves during the prime time for the utmost benefits.
Omura soursop leaf tea has a nice flavor, and it brews well. 
It comes in a pack of:
25 Tea-Bags,
50 Tea-Bags and
100 Tea-Bags | 2x50 Tea-Bags
Relax and enjoy knowing you're enjoying your tea time with every sip!
Omura WONDER
Start the day off right with Omura Wonder Soursop Natural Graviola Leaf Tea! This tea is made from soursop leaves, providing a unique flavor that pairs perfectly with breakfast. It's caffeine-free and offers natural antioxidants which help boost your day. Get the perfect pick-me-up for the morning with Omura Wonder Soursop Tea.
Get It Now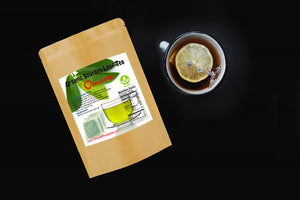 The results have been very good and encouraging.
Delight in the natural leaves of soursop with Omura Wonder Soursop Natural Leaf Tea. This tea is made with high-quality soursop leaves and a hint of lemon optional, providing you with a delicious and natural remedy day. Enjoy the earthy flavors and refreshing taste of the amazing soursop tea.
Get It Now